If you need an SUV with three rows of seating, you're not stuck buying a bus-length full-size vehicle with poor gas mileage. There are some excellent midsize SUVs available with a third row of seating at reasonable prices with decent gas mileage. Two of the best are the Kia Telluride (our Best Buy Award winner in its class three years in a row) and the Jeep Grand Cherokee L – a stretched version of the iconic Grand Cherokee.
Let's look at reasons a buyer might be attracted to each.
2023 Kia Telluride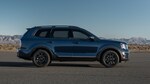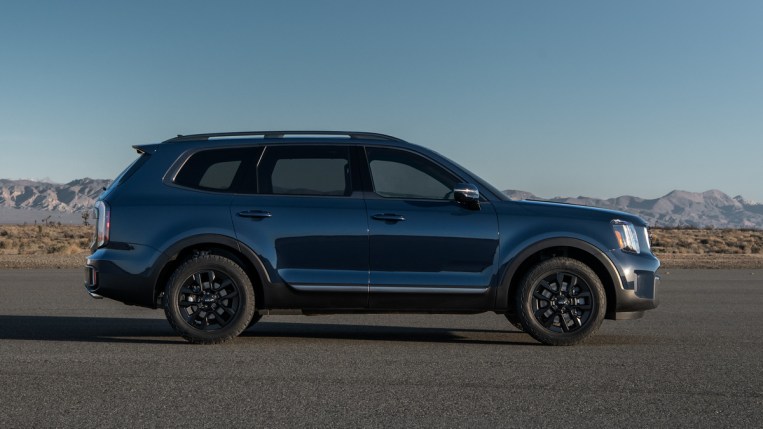 The Kia Telluride is simply one of the hottest vehicles in America. Car dealers used to try to keep a 6-week supply of new cars to sell. For much of the 2023 model year, Kia dealers have had trouble holding a Telluride on the lot for a second week. With a roomy, well-thought-out cabin, a strong V6 engine, and a long feature list, the 2023 Telluride is a hit. Prices start at $35,690.
Kia Telluride Highlights
More cargo space: This is a comparison between the normal-size Telluride and the stretched version of the Grand Cherokee. And the Telluride has more cargo space. That's quite a feat.
Lower price, not lesser content: The Telluride's starting price is almost $8,000 lower than the Grand Cherokee L's. Yet it's no less well-equipped. The base LX trim brings niceties like one-touch sliding and folding rear seats, Apple CarPlay and Android Auto, and even a rear-occupant alert safety system, all at no added cost.
Excellent warranty: Kia protects your investment with a 10-year, 100,000-mile powertrain warranty. Even their bumper-to-bumper warranty is longer than what Jeep offers.
Check this week's Fair Purchase Price or see the Telluride models for sale near you
2023 Jeep Grand Cherokee L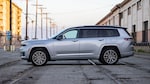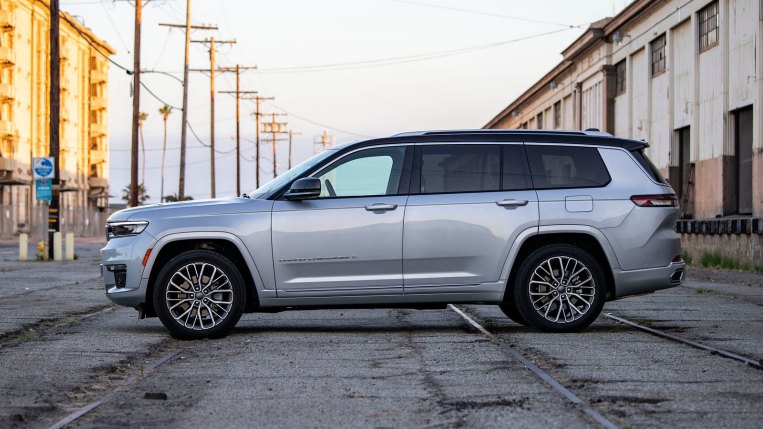 Jeep practically invented the modern midsize SUV. The 2-row Grand Cherokee is one of America's 25 best-sellers almost every year for a lot of good reasons. For the 2023 model year, Jeep offers a 3-row version, the Grand Cherokee L, with the usual off-road prowess and a tailored, upscale look. Prices start at $43,530.
Jeep Grand Cherokee L Highlights
Available V8: The standard V6 engine in these two SUVs are close enough in performance to make little difference. But Jeep lets buyers step up to a 357-horsepower V8. The Jeep is your best choice if you need (or just prefer) more grunt on your drive.
Available 7,200-pound towing capacity: Properly equipped, the Telluride can tow up to 5,500 pounds. The Grand Cherokee L can do that without breaking a sweat. It maxes out at a full 7,200. If your SUV will be pulling a boat or camper regularly, the Grand Cherokee L will have a far easier time of it.
Off-road skills: Kia has introduced two off-road-oriented versions of the Telluride this year, but neither stacks up to the most trail-capable Grand Cherokee L. Jeep's Quadra-Drive II 4-wheel-drive system may be the best in the business, with an electronic limited-slip differential and real skid plates. The Telluride X-Line and X-Pro acquit themselves better on the trail than you might expect. But if your SUV will see as much dirt as asphalt, you might want Jeep's proven off-road reputation.
Check this week's Fair Purchase Price or see the Grand Cherokee L models for sale near you.
Similarities
Both SUVs come with a standard V6 and an 8-speed automatic transmission. Both are available in off-road-oriented trims, and they're two of the dressiest-looking midsize SUVs.
Conclusion
The 2023 Jeep Grand Cherokee L does what a Jeep tends to do – offers excellent off-road performance and near-luxury features if you're willing to pay for them. But so does the 2023 Kia Telluride, with a little more space for less money. If you need to tow, or will spend as much time off-road as on, the Grand Cherokee L might still be your best bet. But in many circumstances, the Telluride bests it for a lower price.
Specs
| | | |
| --- | --- | --- |
| | 2023 Kia Telluride | 2023 Jeep Grand Cherokee L |
| Estimated Starting Price | $35,690 | $43,530 |
| Popular Powertrains | | |
| Engine | 3.8-liter V6 | 3.6-liter V6 |
| Horsepower | 291 hp @ 6,000 rpm | 293 @ 6,400 rpm |
| Torque | 262 lb-ft @ 5,200 rpm | 260 pound-feet @ 4,000 rpm |
| Transmission | 8-speed automatic | 8-speed automatic |
| Fuel Economy | 20 city/26 highway/23 combined mpg | 19 city/26 highway (FWD), 18 city/25 highway (AWD) |
| Also Available | AWD | 5.7-liter V8, 4WD |
| Specs | | |
| Basic Warranty | 5 years/60,000 miles | 3 years/36,000 miles |
| Powertrain Warranty | 10 years/100,000 miles | 5 years/60,000 miles |
| NHTSA Overall Safety | 5 stars | n/a |
| Max Seating Capacity | 8 | 7 |
| Wheelbase | 114.2 inches | 121.7 inches |
| Overall Length | 196.9 inches | 204.9 inches |
| Width | 78.3 inches | 77.3 inches |
| Height | 68.9 inches | 71.5 inches |
| Turning Diameter | 38.8 feet | 38.3 feet |
| Headroom, 1st row | 39.5 inches | 39.8 inches |
| Headroom, 2nd row | 38.8 inches | 39.9 inches |
| Headroom, 3rd row | 37.8 inches | 37.3 inches |
| Legroom, 1st row | 41.4 inches | 41.3 inches |
| Legroom, 2nd row | 42.4 inches | 39.4 inches |
| Legroom, 3rd row | 31.4 inches | 30.3 inches |
| Shoulder room, 1st row | 61.6 inches | 58.0 inches |
| Shoulder room, 2nd row | 59.9 inches | 51.9 inches |
| Shoulder room, 3rd row | 55.3 inches | 51.9 inches |
| Cargo volume | 21.0/46.0/87.0 cubic feet | 17.2/46.9/84.6 cubic feet |