All vehicles have a purpose. 18-wheelers transport goods, busses take people to work, and RVs take people on vacations. But what about sports cars? Sports cars do something special. They are made to be fast, agile, fun, and beautiful. People may not want to admit it, but in our society, looks matter. When you pull up at a stoplight in a sports car, you want people to look. You want them to be jealous.
Car companies invest significant amounts of money into developing their expensive sports cars. The best designers can spend years coming up with a vehicle that will grab the industry's attention and the buyer's imagination. Nothing makes manufacturers happier than people lining up to buy their cars or, even better, getting on a waiting list to buy one. Not every sports car put on the market has passed the test. Many have failed, but those that do pass can become legends.
Of the cars available for sale this decade, these are the ones that have done it the best:
10

2022 Acura NSX
The first-generation Acura NSX (New Sportscar eXperimental) was built in Japan from 1990 to 2005. The mid-mounted V6, designed by Pininfarina, was built to take on the Ferrari 328, but at a lower price and with the added reliability of a Japanese car. It went through multiple variants before the styling became too outdated.
The new NSX went on sale in 2016. It has a low stance, an aggressive front end, and tail lights that recall the original NSX. There are functional air inlets behind the doors where the body gets more expansive in the back, while in the rear is a deck spoiler and a unique pointed back end that makes it looks almost like an alien spacecraft. The interior has an undulating feel with excellent ergonomics and rear visibility for a great driving experience.
9

2022 Aston Martin DBS
Martin. Aston Martin. The Aston DB5 was chosen to be James Bond's car because a suave British spy needed a sophisticated British car. Since then, an Aston Martin has featured in nearly every film, with the DB5 and DBS being the most frequently used. Because of that, it has had an extra air of prestige, and Aston Martin has made sure its style has kept up with the times.
The DBS has an unmistakable front end with a massive grille and air extractors on the side to help cool the brakes on its oversized 21-inch wheels. It has an Aeroblade style, giving it maximum downforce and elegant styling. At the rear back is a quad piped titanium exhaust that gives it a sound to match its looks. The interior comes with a leather wheel and leather, wood, or carbon fiber accents, or if those aren't good enough, the Q Division can personalize the DBS with many custom options.
8

2022 Chevrolet Corvette C8
The Chevrolet Corvette is always at the top of the most incredible American cars list. Between its design and impressive performance, few vehicles can compete. The DB5 has James Bond to make it desirable, and the Corvette had the Apollo 12 Astronauts. Prince didn't name the song Little Red Mustang. He called it little Red Corvette. It's an American icon.
Though it's undeniably a Corvette, it has a distinctive new shape. The nose and the body are sharper, It's longer, and the air intakes are further back to accommodate the new engine location. The rake is more drastic, with longer rear window glass that looks more European. In the back are the classic central tailpipes, and the headlights get a more angular shape. The interior is also more modern, with a center screen and digital gauges instead of mechanical. It may not look as American, but Chevy has succeeded at making it a supercar.
Related: HotCars Exclusive: 2022 Chevrolet Corvette C8 Is A Borderline Supercar
7

2022 Ferrari 296 GTB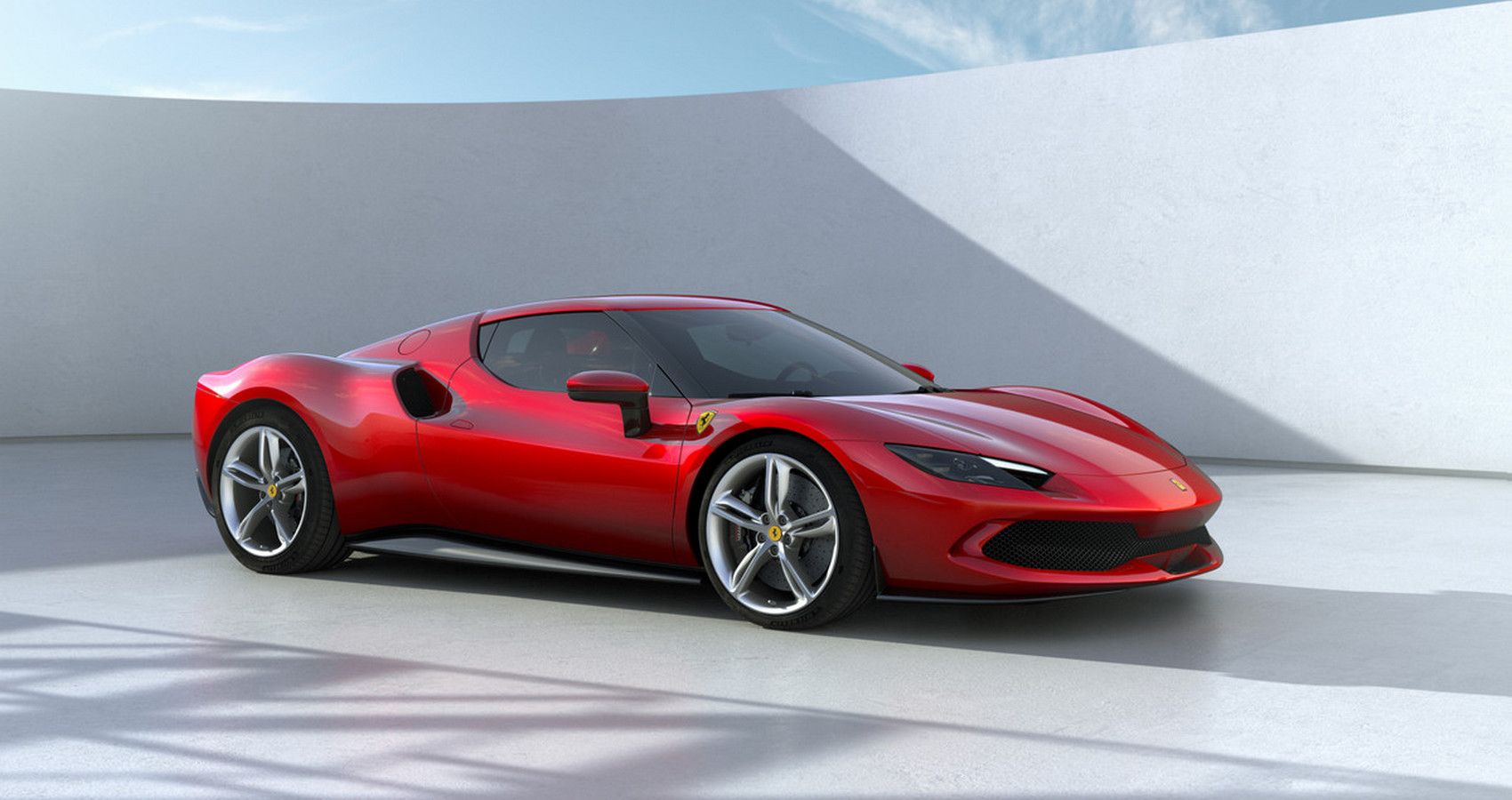 Ferrari has consistently made some of the most beautiful cars on the road. They are always on the cutting edge of aerodynamics without losing the goal of looking as alluring as possible. Ferraris are also known as being high-speed cars. While previously powered by V12s or V8s engines, the 296 is the first Ferrari to have a twin-turbo V6 paired with an electric motor that doesn't sacrifice performance.
What they came up with is smooth as silk with graceful curves and a more rounded structure. The rear is clean and simple, with a high exhaust above a large rear diffuser. Unlike the outside, no one could claim that it's clean or streamlined. The steering wheel alone appears to require a Ph.D. to use, but a car with a modern powertrain is bound to have a modern cabin, and the aggregate package outweighs that fault.
6

2022 Ferrari Roma
La Dolce Vita, the Good Life, is a phrase used to describe the city of Rome, and the Ferrari Roma has been characterized as La Nuova Dolce Vita, the New Good Life. Besides sharing a name, The Roma is as indulgent as the city itself, while also a little more about style than speed. There's simply no denying that it has plenty of sex appeal that keeps it firmly within the Ferrari lineup.
The Roma has gentle curves, no side air intake, and a rear hardly recognizable as a Ferrari but more like an Aston Martin. Even with the power under the hood, the Roma isn't a track or race car. It's a grand tourer designed to drive as smoothly as it looks. Just like its soft exterior, the interior is also simple and refined. Many other Ferrari interiors have become confusing, but the Roma's interior controls have been relocated to the central screen, eliminating excessive switches and buttons. The philosophy of the Roma seems to have been less is more, but it's certainly more beautiful.
Related: Here's How The Ferrari Roma Compares With The Aston Martin DB11
5

2022 Lotus Emira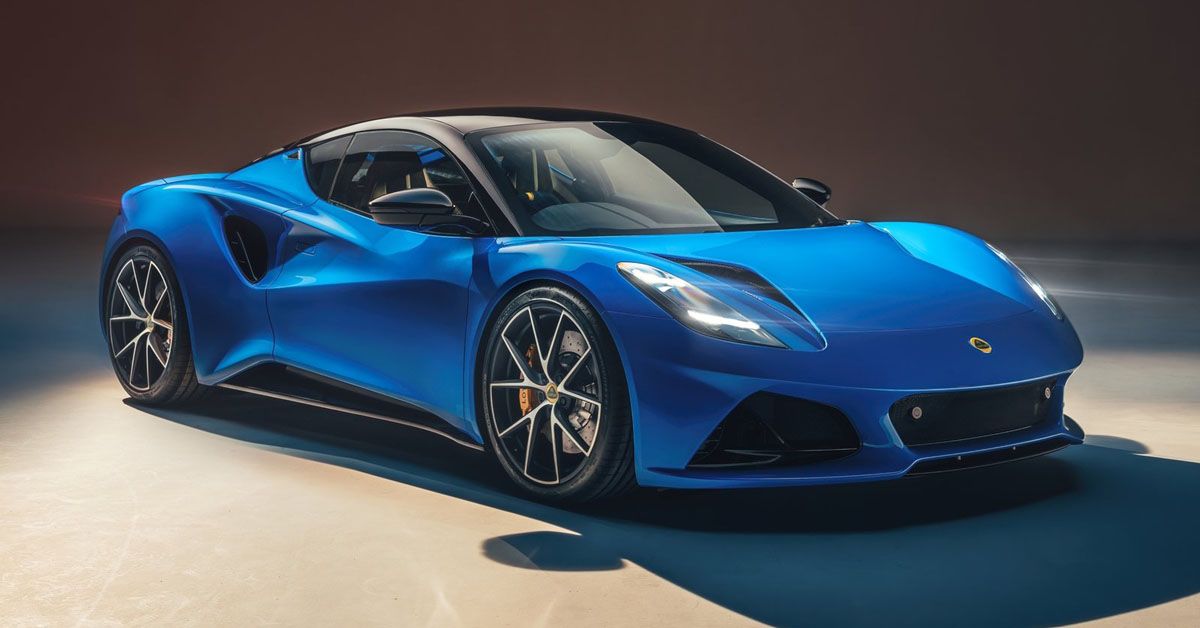 Lotus is often overlooked and forgotten when thinking about British cars, but they are always interesting to look at and exciting to drive. The Emira is a special car because it will be Lotus's final combustion engine car. Robert Carr also designed Evija, which looks like it will be an imposing car, but for now, the Emira looks like an exciting car at a much more reasonable price
The Emira has dramatically sculpted surfaces, excellent proportions, and an interior cockpit that sits low to the ground. It features vertical LED headlights inspired by birds' wings at the front, with a sloping back window that blends into an upward wing and tailpipes that blend into the air diffuser. Previous Lotus cars have been very analog, but the Emira has finally caught up with the other car manufactures and takes on a much more modern look. Behind the giant shifter is a flip-covered starter button that adds to the fun.
Related: https://www.hotcars.com/mercedes-amg-sl43-versus-lotus-emira/
4

2022 Maserati MC20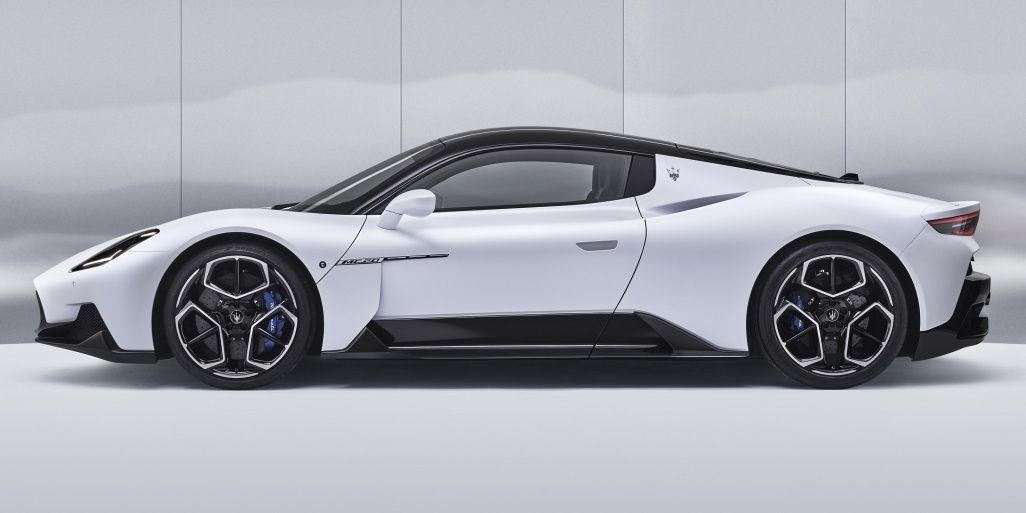 Never the bride, but always the bridesmaid, thanks to its neighbors, Ferrari and Lamborghini. It's easy to overlook Maserati no matter how great they are. They had some success with Gransport and Quattroporte, but they could never stick their trident into the dominance of German luxury cars. Now with the release of the MC20, they're taking another stab at the supercar world.
The MC20 has an eye-popping appearance and the performance to rival a Ferrari. In front are a large grille and wheel wells plus a long hood. In the back is an upswept tail atop wide thin taillights, mid-mounted tailpipes, and a large diffuser that all add up to a highly sporty look. The highlight of the exterior is its scissor-style doors. The interior is clean with plenty of carbon fiber and a center screen that's large but not overwhelming. The car's design has won numerous awards, including the European product design of the year.
3

2022 Lamborghini Aventador
Lamborghini, known for its speed and exciting styling, has never made a boring car. The flagship Murcielago was replaced by the Aventador in 2011 and has been refreshed several times. While it has been around for a while now, the Aventador still looks like as much of a supercar as it did when it was unveiled a decade ago.
It sits low to the ground with sharp edges that look like they would cut your finger if you touched them. There is an abundance of air vents and intakes that keep it stuck to the ground and sailing down the highway. Thanks to an unmissable spoiler and large air diffuser, the Aventador screams Lamborghini with its highly exotic design. The inside looks like it came from the Batmobile, precisely what you want the interior of a supercar to look like.
2

2022 McClaren Artura
In 1992 the automotive industry was changed forever when Gordon Murray and McLaren racing developed the F1. In 1998, it became a legend for setting a speed record for a production road car reaching 240.1mph. In 2012, McLaren designed a new production car, the hybrid P1. They continued building new combustion models for ten more years, but now things are changing.
In 2022, McLaren will begin the production of their second hybrid car named the Artura, which combines the words art and future. Like newer McLaren's, it has a downward-pointing nose that continues from the front pillars to the roof made from a single piece of aluminum. In the middle are large air vents and scissor doors. Ultra-slim LED lights define the rear, two raised exhaust pipes, and carbon diffusers to aid the aerodynamics. The interior of previous models seemed to be an afterthought, but in the Artura, it has been given plenty of time and attention with an HD gauge cluster and a beautiful HD center screen with controls for its features.
Related: V6 Super Car Showdown: Ferrari 296 GTB Vs McLaren Artura
1

2022 Mercedes AMG SL Roadster
The SL has always been an object of desire, beginning with the first model and its gullwing doors. AMG versions have been built for years now, but this 7th generation SL is the first one to feature only AMG engines. While all cars on this list are fast and beautiful, only the SL delivers speed and coddles the driver in true luxury.
The new version further evolves the styling of the roadster's long hood and short back end. Switching from a hardtop to a soft top saved 46 pounds and led to the SL having a lower center of gravity. The exterior is sophisticated with the Panamericana grille, LED lights in front and back, plus an active rear spoiler. The interior is what Mercedes calls a Hyperanalog design and sports an 11.9-inch center screen and a 12.3-inch gauge cluster. AMG's sports seats come standard with the Mercedes AIRSCARF system to keep your neck warm with the top down.